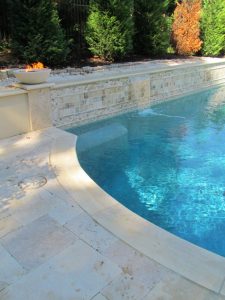 Pool Decks * Patios * Driveways * Walkways
Stoneworks Travertine, Marble or Limestone is the perfect choice for your outdoor projects. Travertine stays COOL underfoot even in direct sunlight, is Freeze-Thaw compatible in ALL climates, is twice the strength of concrete, is non-slip in both wet and dry conditions and when dry-set, there is no maintenance – NO NEED TO SEAL.

Always ask us about our custom fabrication and project capabilities!
The Cappuccino Latte is a vein-cut travertine that adds tremendous interest without added color in the stone. It goes nicely with a lighter cross cut travertine where you want to keep the colors neutral but add more diversity with the cut of the stone. This Pool & Spa Design Build Project courtesy of Mitchell Pools, Douglasville, PA.